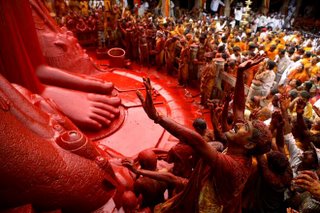 Pilgrims dance ecstatically at the feet of the 58 ft high statue of Bahubali in Shravanabelagola, Karnataka, South India, during the Mahamastakabhisheka festival. This is one of the most important Jain religious festivals, with pilgrims arriving from all over India and the world. Photo: Karoki Lewis, BBC NEWS

I've been to this sacred site, and the statue of Bahubali is breathtaking. It stands at more than 57 feet tall, is carved out of a single piece, and is on the top of a mountain overlooking a considerable number of temples. It is considered one of the most important Jain sites in South India, which was in itself a revelation as I used to think that Jainism was limited to the Northern and Western states of India. But I've been reading about how that's not the case at all. Anyway, this celebration only occurs once every 12 years. Relevant article.

Damn. Missed it again.